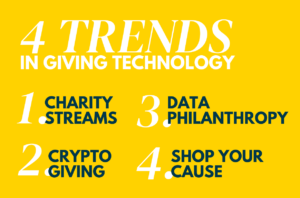 The days of writing checks to big charities are slipping away. Over the last decade, the popularity of crowdfunding platforms has revealed just how much people love to choose among individual causes and people in need of help, making giving feel very personal. At the same time, donating digitally is becoming as standard as choosing to shop online, according to a recent analysis of how nonprofits get funding. 
Today, a whole new tech ecosystem is evolving to take that instant, intimate connection of giving into retail, gaming and corporations alike, creating new ways to bond with customers over helping the world. Here's a peek at Giving3: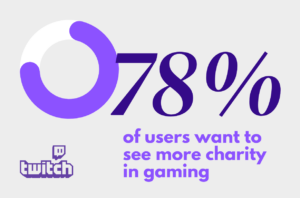 CHARITY STREAMS
Just as retailers are waking up to the power of livestreaming to sell their products, gamers, influencers and nonprofits are using the medium to raise money for good. Twitch is a great example of where this is already happening—in fact, the streaming platform where 31 million gamers and content creators gather every day, is a nod to the possibilities in online entertainment. Twitch's own surveys have shown that 78% of users want to see more charity in gaming, and they are excited to host their own fundraising streams, collecting donations for everything from sick children to suicide prevention In February, for example, the Runaway Guys Colosseum livestreamed a weekend of gaming, music, giveaways and other fun, which raised $416,395.95 for the charity Direct Relief. Meanwhile, the recurring video game speedrunning marathon series Games Done Quick, which supports nonprofits like Doctors Without Borders and the Malala Fund, has raised nearly $37 million since its inception.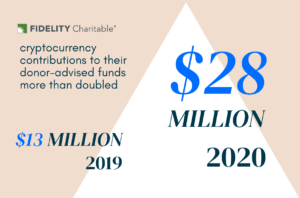 CRYPTO GIVING
Despite the current crypto crash, several new reports predict the growth of donating with digital currency. For one, it's attractive to a younger donor set; it also appeals to those who have become skeptical of the charity industry and are assured by the transparency of blockchain, which tracks where exactly the money is going.
According to Fidelity Charitable Trust, cryptocurrency contributions to their donor-advised funds more than doubled from $13 million in 2019 to $28 million in 2020. Fidelity's report also notes that donors are also using crypto gifts to support causes where traditional donating is not available or federal policy is still catching up. For example, companies like 420coin are donating bitcoin to skirt restrictions around The University of New Mexico Medical Cannabis Research Fund, which studies the effects of cannabis use. 
DATA PHILANTHROPY
Another emerging trend is the use of company data for the public good. What that looks like can vary, but generally a business will share information it collects on its customers' behavior (subject to privacy safeguards like anonymization and aggregation) with a nonprofit organization, researchers or government agencies to help solve a crisis or offer insight to the charity sector. 
In one case, The Mastercard Center for Inclusive Growth provided anonymized and aggregated credit card transaction data to researchers at the Urban Institute, who used it to learn more about how people donate. (An interesting finding: education nonprofits receive the highest average donation per contribution compared to other causes.) And during the pandemic Google used location data from its phone users to post COVID-19 Community Mobility Reports, which showed how people were visiting retail stores, groceries, pharmacies, parks, transit stations and offices. "We've heard from public health officials," Google explained on their site, "that the same type of aggregated, anonymized insights we use in products such as Google Maps could be helpful as they make critical decisions to combat COVID-19." 
SHOP YOUR CAUSE
Last but not least, new platforms are bringing that personal feel-good pop of going on a crowdfunding site to retailers. The company decides what portion of each sale to donate, but the shopper gets to pick the cause when they make their purchase. Probably the best known example is AmazonSmile, launched in 2013, where the company donates 0.5% of each sale. By September 2020, the program had given $215 million to the charities its customers selected.
Platforms like Sparo take the idea a lot further and let the rest of the world's retailers build giving into shopping. Sparo makes customers' charity selection an instant and seamless part of hitting "buy" or "purchase" and offers many other ways a retailer can connect over giving—for example, via campaigns to help in a national or global crisis, like a wildfire or tsunami. Sparo supplies the retailer with valuable data for insights and tax reporting, and a host of tools to showcase the concrete impact of these donations–whether it's feeding a hungry child, sheltering a refugee from Ukraine or replanting a devastated forest.
The effect is a triple win. In just 20 days with 20% of Staples' customer base using Sparo, the brand donated $50,000 to the charities they selected. But Staples also saw an additional $2.5 million generated in sales among those shoppers. Especially for the Gen Z shopper who expects brands to align with their values and wants to personally engage, the model is promising for the future.