When it comes to data on charitable donations, Giving USA is legend.


Their annual reports are highly anticipated and widely shared. With their latest 2022 report looking at how the good-hearted money flowed in America in 2021, the news is sobering in some ways and inspiring in others. 
HOW MUCH:

Americans opened their wallets to donate a whopping $484.85 billion last year. But  their generosity was eaten up by inflation which, when you adjust for it, means the giving pot actually shrunk by .7% from the year before. That has left charitable organizations struggling.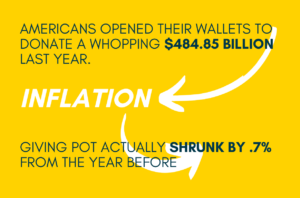 WHO ARE WE GIVING TO?

Most donations in 2021—27%—went to religious organizations, followed by education (14%) and human services (13%). Only 3% of the total pie went to the environment and animals, although that sector has been gaining a lot of steam—in current dollars, increasing 22.8% since 2019. Other causes that have taken off since then are "public society benefit" (up 42.9%) and "arts, culture and humanities", which got 5% of total donations but has grown by 20.3%.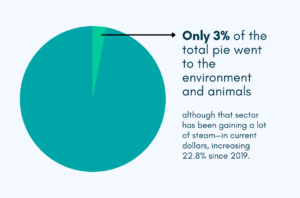 WHERE THE MONEY COMES FROM:

Among the
four main sources of donations, corporations showed the greatest increase in giving—18.3 percent, adjusted for inflation. And that includes  cash and in-kind contributions made through corporate giving programs, as well as grants and gifts made by corporate foundations. But it's complicated. That 18.3 percent  was 0.7% of their pre-tax profits, which has fallen since 2016. Big picture, only 4% of total donations come from corporations. Most of the country's generosity—67%—flows from the wallets of individuals, followed by foundations and bequests. In general, people gave about 1.8% of their disposable personal income, which is historically at the low end. During the last 40 years, that percentage has ranged from 2.4 to 1.7 %.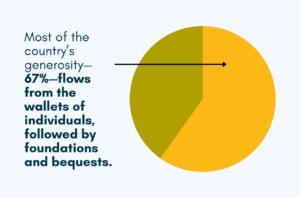 THE CONTEXT:

Not surprisingly, people and corporations are more likely to contribute when the stock market and
Gross National Product (GDP) are strong.
 Looking at the S&P 500, Giving USA found that while the index grew 21.2 percent in inflation-adjusted dollars between 2020 and 2021, this compared with flat -0.7 percent growth for total giving in inflation-adjusted dollars.  But as a percentage of GDP, giving was 2.1% last year, which is the highest it's been in the last decade.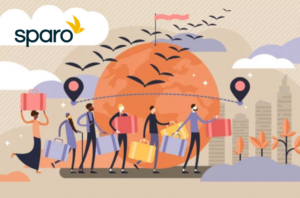 THE TAKEAWAY.

Americans are as generous as ever but times are challenging, and they're also changing. It will take new solutions, like Sparo, to zipline people to causes they care about and help companies benefit from contributing to a better society.