Historically, the American public has primarily looked to the government to provide international aid during global conflicts. But new data shows that's no longer the case. According to a recent study by Sparo on corporate response to Russia's war on Ukraine, 43% of Americans believe the government AND businesses share an equally weighted responsibility to support Ukraine during this global crisis.
While the Biden Administration's call for $33 billion in military, economic, and humanitarian assistance to support Ukraine is certainly commendable, Ukrainian President, Volodymyr Zelensky, himself recently estimated that it will cost roughly $600 billion to fully rebuild Ukraine.
This revelation came at The Wall Street Journal's CEO Council Summit in London on May 3, 2022, at which Zelensky spoke of the untold destruction of his country. His impassioned address has inspired support from other world leaders. But as the war rages on, President Zelensky cannot bear the burden of personally raising every last cent; as this new data suggests, Americans believe it's time for corporate leaders to step up and support.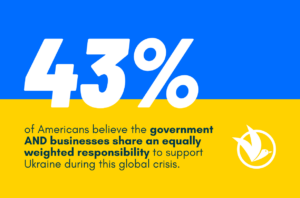 Why Retailers Benefit
In addition to the obvious humanitarian argument for supporting Ukraine, there is a fiscal argument to be made. The corporate response study shows that 52% of Americans would be more likely to engage with a company/consider buying their products if they were aware of the steps that said company was taking to support Ukraine. 
In other words, retailers have an opportunity to simultaneously accelerate social impact during this critical time and drive customer loyalty. In fact, public sentiment indicates that a majority of Americans believe that President Biden's response to the conflict in Ukraine has not been "tough enough," and his approval numbers are reaching record lows. Companies have an opportunity to weave support for Ukraine into their corporate culture and inspire their customers to  keep coming back. Doing the right thing is not an option; it's a business imperative.
People Want to Give, Businesses Can Show Them How
We now know that almost half of Americans (47%) are looking for ways to give back to nonprofits around the world. But figuring out where their money will have the most impact can seem daunting. In fact, 21% report they don't even know how to find ways to support Ukraine.
As more companies, hopefully, continue to provide support to Ukraine, they are also providing more avenues for their consumers to support Ukraine as well. This is particularly beneficial for smaller, lesser-known organizations. Having brands people know and trust donate to a small nonprofit with little visibility but significant impact can build confidence in the nonprofit among that brand's loyal buyers.
Many Americans are Fed Up with Performative Giving
The study found that — of the 40% of Americans who believe corporations haven't been doing enough or could be doing more for Ukraine — 43% said their biggest criticism is that actions from corporations and US businesses feel more "have to" than "want to," meaning that they are performative and episode-driven rather than authentic and impactful in the long term. That number grows to 57% among Gen Z and younger millennials (18-29) who have the strongest criticism of "performative activism." In order for companies to truly make a meaningful difference, they need to wire social consciousness into their corporate identity.
Democratizing Global Philanthropy
Platforms like Sparo make it easy for businesses – especially retailers – to add an element of altruism to their business model. Using Sparo, companies can identify any number of charities worldwide and allow their customers to pick which one their sales will benefit. While the financial responsibility is on the company, the consumer is invited to participate. At Sparo, we are also working to make charitable giving more equitable; our technology allows smaller charities and causes around the world the opportunity to receive additional exposure and support, leveling the playing field in the social sector against larger, more well-known charities and democratizing global philanthropy.
Had more businesses built giving into their corporate infrastructure prior to the war in Ukraine, perhaps they would have been better prepared to help solve the crisis. If we want to be prepared for the next major humanitarian disaster, it's the multi-billion-dollar enterprises that will have to lead the way. It's up to them to exercise leadership so that the next generation of capitalists will infuse their consciences into every decision they make.